Harvesting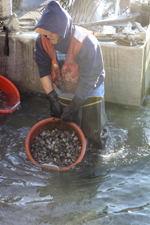 Each spring, we plant approximately 60 million clam seed, which replaces the thousands of pounds of clams we harvest annually. The juvenile clams are grown in a floating upwelling system to protect them from predators such as crabs, birds and moon snails.  After about three months, the clams are removed spread on the beach to continue to grow to maturity. When they are ready, our crew arrives at low tide to commence harvesting the old-fashioned way:  armed with buckets, dredgers, and digging forks.  Working swiftly, they soon have enough bivalves to fill the day's orders.
Processing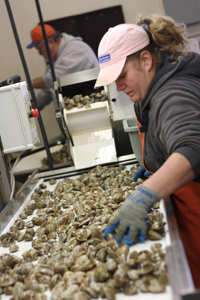 After purging in a sink float through a tide cycle, the clams and oysters are transferred to Little Skookum's certified production facility where they are prepared for shipment. The processing building is also located on site, enabling the crew to begin preparation for shipment within 30 minutes of being pulled from the water.  This is a hands-on operation.  We don't rely on machines to do our harvesting. To protect the shellfish from damage and to ensure our high standard of product, they are personally inspected by at least three experts along the line.  The clams and oysters pass through our quality control, are counted or weighed, then placed in food-grade polyethylene resin knitted bags before being boxed for shipment.  Then they are whisked off either to the airport or distributors by refrigerated trucks.
Environmental Stewardship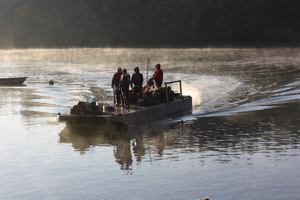 Our farm is ideally located on the shores of Little Skookum Inlet – on Jeremiah Lynch's original homestead.  This is the perfect spot from which to provide stewardship over the inlet.  It is imperative that our clams and oysters are grown in a clean environment. We take an active role in keeping the waters of Puget Sound clean.  Without a sustainable environment, we could not maintain the legacy Jeremiah Lynch passed down so many years ago.

Little Skookum Shellfish Growers is in partnership with nature.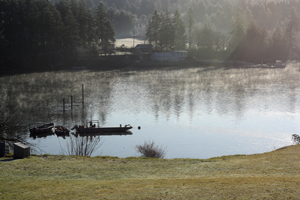 The inlet's natural, strong currents contribute to the superior quality of LSSG's harvest. Twice each day, clean water rushes in to refresh the inlet, bringing with it rich nutrients to replenish what the clams and oysters consume.  And the bivalves actually aid in keeping the water quality superior.  In one day, a single clam can filter up to 50 gallons of water, and an oyster, up to 65 gallons, removing carbon dioxide from the habitat, and returning nutrients to the inlet.  This process helps keep algae growth in check, maintaining the balance needed for the health of the inlet as well as for future shellfish crops – although it may, at times, be necessary to chase away an occasional starfish or moon snail.